Dr. Shawn Tsuda, MD, MBA, FACS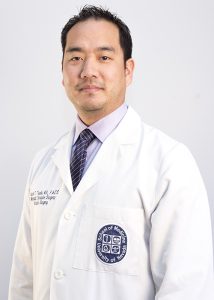 Shawn Tsuda, MD, MBA, FACS is a board-certified and fellowship-trained general surgeon in Las Vegas, Nevada. Dr. Tsuda performs bariatric surgery, anti-reflux, and hernia surgery. He specializes in advanced robotic surgical techniques and trained hundreds of surgeons in various techniques. He is on the board of directors for the Viticus Center, which trains human and animal health professionals in their state-of-the-art hands-on institute. Dr. Tsuda is on the board of governors for the Society of American Gastrointestinal and Endoscopic Surgeons (SAGES) and Chair of the Valley Health System General Surgery Residency Program.
He is fellowship trained in laparoscopic weight loss surgery and certified in da Vinci Xi robotic surgery and the Linx procedure for GERD, for which he is also a trainer.
Dr. Tsuda specializes in minimally invasive surgical techniques including:
Roux-en-Y gastric bypass
Foregut surgery
Ventral hernias
Flexible endoscopy
He currently applies his skills and experience to offer state-of-the-art surgery for the treatment of morbid obesity, reflux, hernias, and other gastrointestinal diseases. He remains active in teaching and research both locally in Nevada and elsewhere.
Education
Medical Degree: University of Hawaii John A. Burns School of Medicine

Residency: University of Nevada School of Medicine (Las Vegas) – General Surgery

Fellowship: Harvard Medical School – Minimally Invasive & Bariatric Surgery
Notable Experience & Accomplishments
M.B.A. in healthcare management
Fellow, American College of Surgeons (FACS)
Member, Board of Directors, for the Oquendo Bioskills Center, training surgeons from around the world
Board of Directors and Director of Human Health
Viticus Center Board of Governors
Chair of the Society of American Gastrointestinal and Endoscopic Surgeons (SAGES) Technology and Value Assessment Committee (TAVAC)
Valley Health System Outstanding Teacher 2020 – University of Nevada School of Medicine
Founding Member of the American Foregut Society (AFS)
AFS Robotics Committee member
LINX trainer
First place, Top Gun Laparoscopic Skills Shoot-Out at the SAGES meeting – 2008
Selected Publications
Robotic Assisted Minimally Invasive Surgery: A Comprehensive Textbook. Edited by Tsuda S, Kudsi Y. Springer. 2018
Louie B, Tsuda S, et al. Objective Evidence of Reflux Control After Magnetic Sphincter Augmentation: One Year Results From a Post Approval Study. Ann Surg. 2018.
Walker P, May A, Mo J, Deepa C, Santillan MR, Kim S, Ryan H, Shah S, Wilson E, Tsuda S. Multicenter Review of Robotic Versus Laparoscopic Ventral Hernia Repair: Is There a Role for Robotics? Surg Endosc 2018.
Lam J, Grimes K, Mohsin A, Tsuda S. Troubleshooting Common Endoscopic Malfunctions: A Study Integrating a Preoperative Checklist and Troubleshooting Guide into Surgical Resident Training. Surg Endosc 2017.
Kim S, May A, Ryan H, Tsuda S. Distraction and Proficiency in Laparoscopy: 2D Versus Robotic Console 3D Immersion. Surg Endosc 2017.
Holihan J, Chen J, Greenburg J, Hehir D, Johnston S, Marcus D, Ryan H, Tsuda S, Liang M. Incidence of Port-Site Hernias: A Survey and Literature Review. Surg Lap Endosc Perc 2016.